Top 10 Seafood Buffets in Myrtle Beach
The Grand Strand is a virtual all-you-can-eat buffet of seafood buffets. Here are 10 to put at the top of your list:
Captain George's
This Broadway at the Beach establishment offers the ultimate dining experience for a buffet setting. Located in a building that's shaped like a huge fishing ship, Captain George's provides a fine-dining environment and quality seafood, including crab legs, fresh shrimp and unique dishes not normally found at most feed troughs.
Original Benjamin's Calabash Buffet
Enjoy a taste of the place that first brought Calabash-style seafood from the Carolina border town to Restaurant Row. Serving the famous batter-fried shrimp, oysters and hushpuppies alongside other buffet favorites from the raw bar and steam table. Combine crab legs with prime rib for a surf-and-turf feast.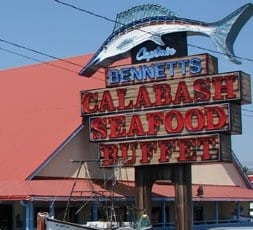 Bennett's Calabash Seafood
This Restaurant Row establishment is a longtime favorite among locals and visitors. Featuring Calabash-style fried seafood as well as a raw bar teeming with fresh shrimp, crab legs, oysters and mussels, Bennett's is the real deal for seafood lovers. Bennett's also has locations in Myrtle Beach and North Myrtle Beach.
Crabby Mike's Seafood Company
This Surfside Beach hot spot has it all, from fresh seafood on the raw bar and steam table to "landfood" favorites such as steak and fried chicken. Featuring 170 items to choose from, Crabby Mike's makes sure you don't go home hungry. The family-friendly atmosphere is a hit among the kids and adults.
Giant Crab Seafood Buffet
It's hard to miss this Restaurant Row fixture. After all, it's namesake, an actual giant cartoon crab, hovers over the entrance to one of the most specialized buffets on the Strand. Raw bar, steam table, stir-fry station, bakery, dessert bar and a kids' table serve 170 items to hungry patrons.
Preston's Seafood and Country Buffet
This North Myrtle Beach restaurant is as known for its "landfood" as its seafood. In addition to all the seafood favorites, Preston's also puts out a spread of prime rib, fried chicken, barbecue ribs and all the Southern-style side items.
Captain Jack's Seafood Buffet
This North Myrtle Beach seafood buffet goes all out to deliver great seafood, side dishes and surf and turf combos, such as shrimp, crab legs and seafood pie alongside prime rib, baked chicken and a pasta bar.
Admiral's Flagship
This Murrells Inlet seafood buffet claims to be the oldest in Horry County. Serving hungry patrons since 1979, this all-you-can-eat buffet features the best that the "Seafood Capital of South Carolina" has to offer, including shrimp, crab, oysters and more.
Seafood House Calabash Buffet
Featuring all the tasty creatures from the sea, including the mythical mermaids who entertain the kids, this Surfside Beach buffet offers a raw bar of oysters, shrimp and crab legs, as well as country cooking, salads, desserts and more.
Crab Daddy's Seafood & Country Buffet
Who's your Crab Daddy in Murrells Inlet? This place puts out a spread of all the seafood favorites – fish, shrimp, crab legs and oysters – plus Southern-style entrees and sides. Try to save room for the delicious dessert bar.