Your Guide to Myrtle Beach Seashells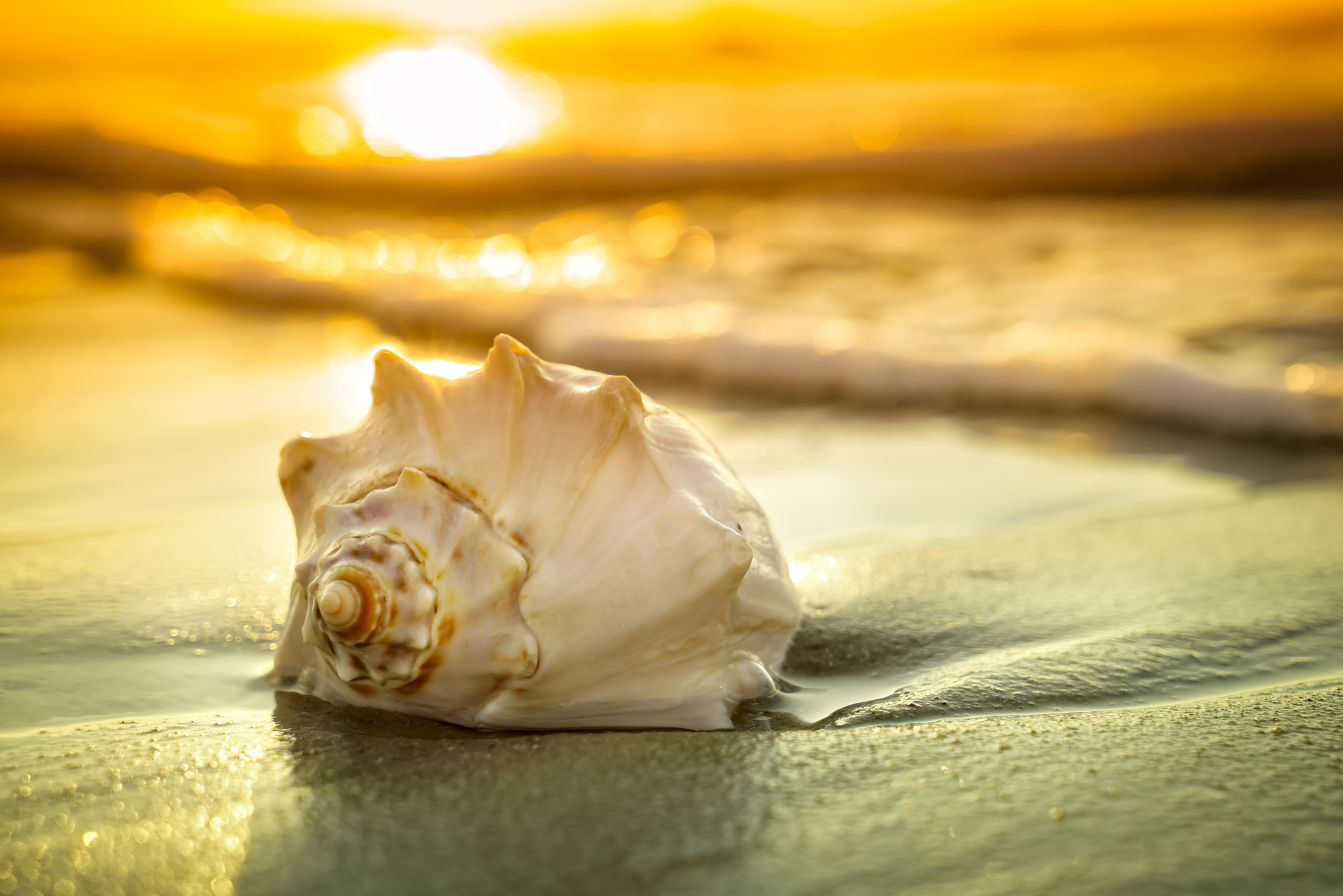 Searching for shells on the beach is a pastime enjoyed by locals and visitors to the Myrtle Beach area. The Grand Strand's beaches see a large variety of beautiful shells from various sea creatures washed up on shore. It's always the best feeling when a complete, pristine shell is found; but what if you're unsure of what the shell is from?
We've put together this fun guide to help shell hunters identify their finds! Remember, the best time to look for shells is during low tide, when the tide is going out, or after a large storm. Also, please note that it is illegal to remove live sand dollars or sea stars from the beach!
Atlantic Moon Snail Shell
Have you ever found a shell on the beach and thought "gee, this looks like a snail shell,"? That's because it was probably an Atlantic Moon Snail shell! These spherical shells house vicious predators that drill a hole into the shell of its prey and suck the innocent creature out.
Banded Tulip
These beautiful shells are spindle-shaped, featuring stripes and colors like cream with streaks of pink. Like the Atlantic Moon Snail shell, the Banded Tulip shell is home to a carnivorous black snail that uses its tongue to make a hole in it's prey's shell in order to eat.
Calico Scallop
The Calico Scallop is a pretty common shell to find along the Grand Strand's coast. This fanned shell can be up to 3 inches wide and features colors like red, maroon, and brown on a cream-colored base. The Calico Scallop is unique as they are mollusks that can actively swim!
Coquina Clams
These tiny shells belong to the Coquina Clam, which are beloved by those who like to play in the sand while at the beach. These burrowing claims are often found in the wet sand and come in a variety of colors including pinks, purples, blues, and yellows.
Heart Cockles
Heart Cockles are common shells found in Myrtle Beach. These clam shells are usually found separated in halves, but when they are found full, they look like a heart. Heart Cockles are usually around 3- 5 inches wide with a white or off-white exterior and pink on the inside.
Jingle Shells
These shells, which are also referred to as witch's toenails, often catch the eyes of those searching for shells due to their shiny and colorful appearance. They are often referred to as Jingle Shells since they make a jingling sound in your pocket or when used as wind chimes. These shells can be found in colors such as silver, gold, brown, or yellow.
Lettered Olive
Did you know the Lettered Olive is the South Carolina state shell? This shell is smooth and shiny and can be found up to three inches long! Lettered Olive shells are cylindrical and feature a brown pattern.
Whelk Shells
Don't confuse these beauties for conch shells – Whelk shells have a similar shape. These cool shells house carnivorous snails. If you pick up one of these shells and find a snail inside, please return it to the ocean!